Tendercard
Gift cards, made easy.
Simple, affordable gift cards for small-to-medium businesses. Custom Cards Design.
Skip 3rd Party
Commission Free Restaurant Online Ordering System
With skip3rdparty.com, you are the boss. You keep all of your Sales, and you keep all of your Customer Data, thus enabling you to reach them and sell to them over and over.
Read More
Restaurant365
End-to-End Restaurant Management
Top of the line restaurant management software which connects operations, accounting, and workforce to drive efficiency, profitably, and growth.
Trusted by more than 30,000 restaurants!
Read More
Popmenu
Website, menus, marketing, FOH operations
Omni-platform solution with engines to improve website design, dynamic menu technology, automated re-marketing, front-of-house operations, and more.
A to Z marketing & technology solutions to put you back in control!
Read More
TouchBistro
Top-of-the-line POS + restaurant management
All-in-one restaurant technology that integrates a top tier POS system with restaurant management software, reservations, and an online ordering solution, all in one unified platform.
Read More
Constant Contact
Deliver stunning emails and a whole lot more.
One of the world's leading digital marketing platforms, Constant Contact allows you to attract new customers and boost sales with a complete, easy-to-use digital marketing suite.
Read More
Nextbite
Make thousands a month more from your existing staff and kitchen with virtual restaurant brands.
Nextbite delivery-only brands send orders to your kitchen. Your staff makes the orders and drivers pick them up. Nextbite pays you for the orders.
No fees – Nextbite pays you
Full training and support program
Nextbite provides all marketing
Get started in as little as 3 weeks
Read More
BrewFirst
Increase your profits as much as 80%
Making beer is a time-honored profession. Your business can now be part of this legacy with our BrewFirst solution.
Each Simple Brewing System (SBS) unit makes any type of beer, any flavor, any alcohol level, in just 8-10 days. All the while dramatically lowering your costs by up to 80%, generating large profit margins for your business.
Try Hard Seltzers or Champagne style beers, we have it all. And your patrons will love them. We sell the patented units and the ingredients. And your staff is trained in one day.
Read More
CASTANET
Better Leads & Engagement on LinkedIn using CASTANET
Proper lead generation is synonymous with relationship building. You can hit a stranger up and ask for the sale, you will work too hard for little return. Invest in your prospects. Communicate with them, share your interests, explain why you're an excellent resource. Building trust takes time and we can help you do it.
Read More
Advisory Services
Advisory services to fit every restaurant's needs.
A local Restaurant Hero, certified to implement the proprietary Restaurant Heroes "Restaurant Success Playbook," is ready to step in to help you restore efficiency and recover your profitability.
Read More
YourFare
Delivery Service Manager
Keep your revenue high and your stress low. The Your Fare platform helps manage all 3rd party delivery services in a way that works best for you. Sign up for multiple 3rd party delivery services and integrate all the orders into one simple user friendly platform.
Read More
Commission Buddies
The Credit Card Processor That Pays You
As a business owner, no matter what your credit card processing rate is, there's a salesperson collecting a commission on every credit card you run. With Commission Buddies, we take that salesperson out of the equation and pay those commissions directly to you.
Read More
Giftbar
Digital Gift Cards for Small Businesses
Giftbar is the fastest and easiest way to gift all the important people in your life, while supporting the best independent merchants in your city. Giftbar is an online marketplace that allows you to purchase and personalize gift cards from high end, independent retailers and send them via email, text, and print-at-home. We offer an insanely curated list of the best merchants from the best neighborhoods, providing a convenient and thoughtful way to digitally gift.
Read More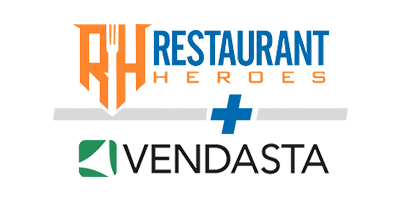 Restaurant Heroes Marketplace
Easy access to top software
Automate your marketing, organize your sales, and implement best-of-breed business software solutions, all through a single curated marketplace.
The Restaurant Heroes partnership with VENDASTA delivers one-click access to all of the business software you need, all through a single portal, and at preferred partner rates.
Read More